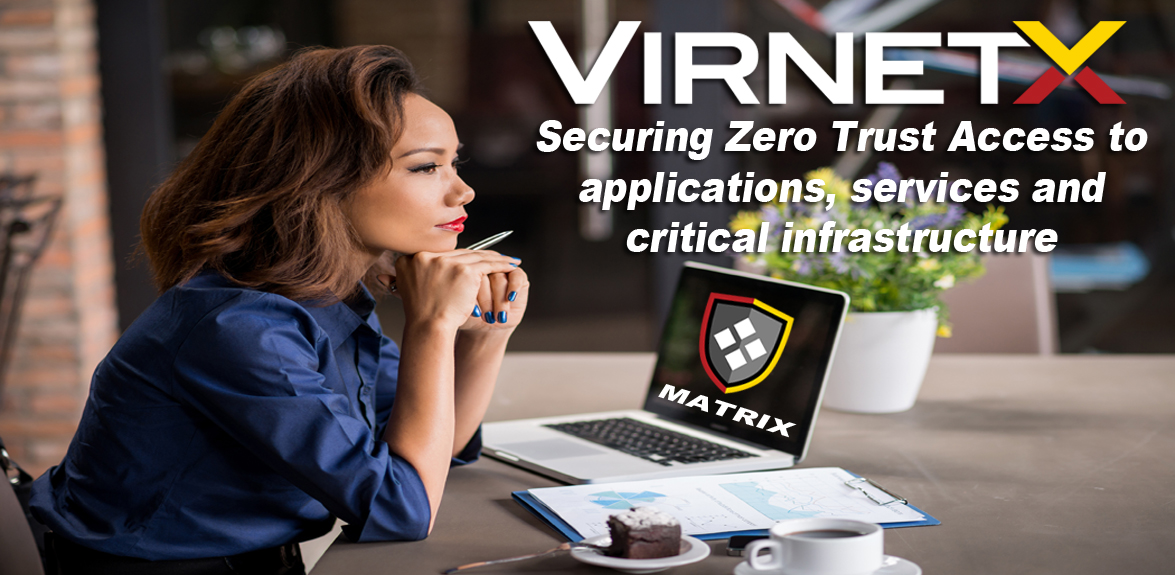 Zero Trust Network Security
Designed from its inception to protect and secure communications for the United States intelligence community, VirnetX MATRIX is a patented technology now available as a Zero-Trust Network Access service to the healthcare industry, where protecting sensitive personal health information, and minimizing the risk of a ransomware attack is critical. Easily deliver a modern, secure ZTNA, seamless user experience across your remote workforce without the need of traditional public VPN technology.
Applications protected by VirnetX MATRIX are only visible and accessible to authorized users and their authenticated devices, dramatically reducing the potential attack surface itself, and the risk of cyber attacks to your enterprise.  Hackers can't infiltrate a network that they can't see. 
VirnetX's patented Secure Domain Name Technology literally removes your public internet communications from the public domain, making your network invisible, and undetectable by hackers.  Its fast and easy to secure remote access to a variety of healthcare applications and user environments, all while segmenting your network in an isolated, Zero Trust software based way. that provides granular security control.
Zero Trust Highlights:
VirnetX creates a closed, Zero Trust private network connection to a specific application, a specific user and their device:

such as physicians accessing your EPIC or Cerner patient care software,

a group of radiologists communicating remotely with their PACS system

a third party billing company contracted to process patient bills

or a smaller rural hospital accessing a larger hospitals hosted EHR application

VirnetX uses dynamic (*PKI) certificate-based network services which already includes built in authentication & authorization, to pre-check, validate, and secure the other IP address, before resolving the end-users connection request.
Mitigates Cyber Attacks by making your existing network undetectable & invisible to cyber criminals using VirnetX's Patented Secure Domain Name Technology & Dynamic Credentials.
VirnetX optimizes and simplifies your IT Application Security stack, reducing operational overhead, or the need for expensive privileged access identity management solutions, outdated VPN technology, etc.
VirnetX quickly and easily secures applications in the cloud, on premises, or across hybrid deployments without "Proxying" any of your data or impacting the end user experience.
Secure Domain Name Technology
Each Application is segmented into unique Secure Domain Names that enable granular access control, policy enforcement and protection from unauthorized users and devices.
Create on-demand, software based virtual networks
Enforce access policies based upon user authentication and device posture
Isolate and limit lateral movement across applications with Zero Trust Network Segmentation
Establish device ownership, control, and visibility in to each device with secure application access

MATRIX Standard
Includes 
10 protected applications each with a Secure Domain
Access for 100 unique users per application
Maximum 2 devices per user

MATRIX Professional
Includes 
25 protected applications each with a Secure Domain
Access for 250 unique users per application
Maximum 3 devices per user

MATRIX Enterprise
Includes 
Starting at 500 users minimum
Unlimited protected applications each with a Secure Domain
Unlimited devices per user