Cyber Security with Meaningful Results!
Solution Synergy is a Cyber Security technology firm, who welcomes small rural community hospitals, as well as large enterprise hospital chains. Big or small, our team understands that your resources are limited, and expect high quality solutions at a reasonable cost. Solution Synergy is continually identifying and evaluating new, emerging Cyber Security solutions which are both cost effective and most importantly, protect your organization from future cyber attacks.
Solution Synergy approaches every client's business as if it were our own. We put ourselves in our clients' shoes; align our skills & expertise with their objectives, and build deep "Trusted Advisor" relationships. Our team collaborates effectively within complex organizations to drive innovative change, and successfully execute large, enterprise scale security solutions. We strive to become a valued resource to you and your IT security team.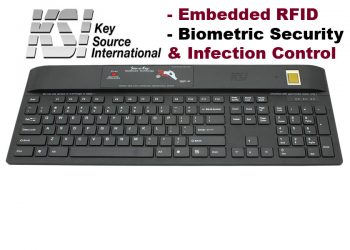 Washable, Infection Control Keyboards with RFID & Biometrics
Washable, Infection Control Keyboards w/Integrated RFID Badge & Fingerprint Readers
Learn more