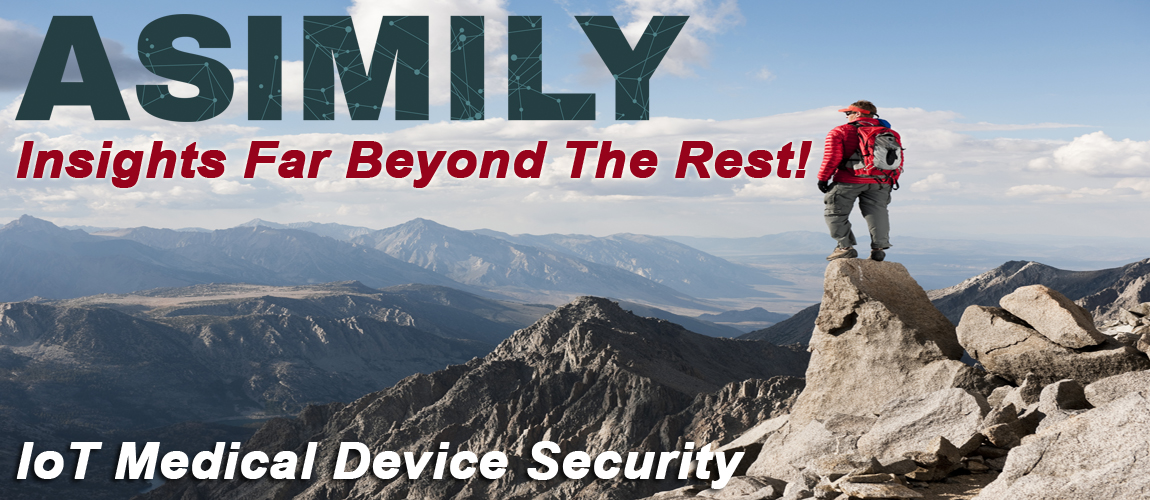 ASIMILY INSIGHT is a comprehensive, IoT (Internet of Things) medical device asset, cybersecurity management platform that quickly and easily inventories all of your connected assets, profiles their behavior, identifies any vulnerabilities and threats associated with each device. The INSIGHT platform provides continuous data driven results with clear visibility into discovery and protection of all your IoT and IoMT assets.
Simply put, It is NOT "Good Enough" to know that you have IoT device vulnerabilities, threats or anomalies. Critically important is the fact that not all threats have equal risk to your organization, as some threats are more serious than others, and some can be more easily exploited than others, with some ultimately requiring a higher sense of urgency for mitigation.  Asimily INSIGHT uniquely prioritizes which threats should be mitigated first with our "Risk Scoring Prioritization Dashboard" which offers clear guidance to your limited IT Security resources so they can focus on the most critical threats first.
Additional Hightlights:
FAR MORE DEVICE INSIGHT – The INSIGHT solution literally provides "Far more device insight" as Asimily includes the largest database of digitized "Manufacturers Disclosure Statements for Security" (MDS2 or MDSS), telling you more about each devices security posture. 
FDA DEVICE RECALL TRACKING – INSIGHT also provides FDA Device Recall Tracking and significant utilization metrics for optimizing your organization's medical device efficiency, and redirecting patients to those devices that are being underutilized, and improve patient treatment workflow experience.