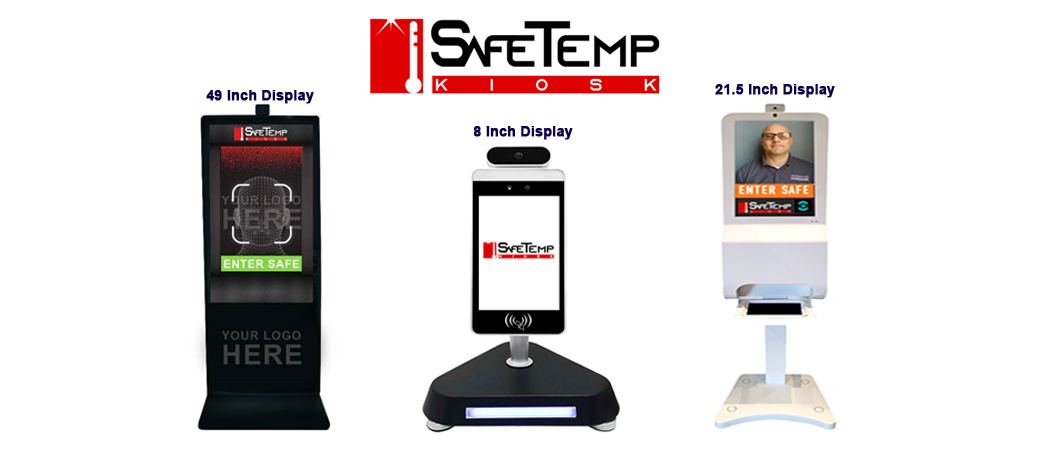 Temperature Scanning & Facial Recognition Security Kiosks
Temperature screening kiosks act as a first line of defense to your company's overall health. With infrared thermal imaging and fast temperature detection, the non-contact kiosks help identify the presence of fever as a symptom of contagious illnesses such as coronavirus. By preventing the spread of viruses, you can maintain a safe and healthy workplace while providing peace of mind to anxious staff, patients and visitors.
Three models to choose from, 8 inch, 21 inch and 49 inch displays.
Body Temperature Scanning
Display and broadcast body temperature after facial recognition
Termperature Target Area measured from chest to head
Compensation temperature setting range is 0 to 1.0 degrees, default is 0.3
Audible & Visual Alerts can be issued via SMS, email or bluetooth if temperature threshold is exceeded.
Facial Security
Stranger or visitor security mode included
Mask detection will display "Access prohibited, Please wear a mask", and voice broadcast "Please wear a mask".
Physical Access Security
Includes physical access controls for doors and gates with an option to pause the door for a few seconds after opening, before it automatically closes the door.
Attendance Records & Status Reporting
Employee by attendance status

Normal
Leaves early at the end of the day
Absent from work that day
Overtime that day

Attendance List by

Employee name, ID and group
Time period and group
Data of record

Monthly & Daily Attendance Statistics

Employee name, ID and group
Normal days
Late arrivals
Early departures
Absences
Pass management list
Overtime on working holidays & public holidays
Real Time Pass Monitoring & Management Reporting
By employees, visitors, blacklists, & body temperatures
Three different pass states

Normal Body Temperature
Abnormal Body Temperature
No Mask

Pass Management Reporting

Name
Identity
Time of passage
Temperature
Photo snapshot of individual

Face Scanning Statistics

Total face scans
Employee face scans
Visitor face scans
Stranger face scans